Get AMPed!
Quick links

Presented by the AMP Training & Education Committee
Wednesday, November 17, 2021 | 7:30am - 3:45pm (Eastern)
Location: Philadelphia, PA
This website will be updated as more information becomes available. Please be sure to check back for all the latest information.
Join us for an interactive course designed to bring you up to speed on the latest technologies in molecular pathology. In the morning, we will take an exciting look at current molecular hot topics and an have up-to-date discussion on current issues regarding the COVID-19 pandemic and SARS-CoV-2 testing. We will then review preanalytical variables that impact molecular testing, testing modalities for the assessment of genome structure, and the current and future application of genomic technologies and informatics to clinical practice. These sessions will be supplemented by an immersive workshop where participants will break out into small groups to work through the various case studies.
Discuss the current hot topics in molecular pathology.

Review the current state of SARS-CoV-2 testing.

Identify common preanalytical variables that impact molecular testing.

Evaluate methods of single nucleotide variant detection, copy number detection, and structural variant (fusions) detection by conventional and advanced genomic technologies.

Describe the role of bioinformatic algorithms on the analysis of NGS data, such as TMB assessments, copy number variants, and/or fusion detections.
Trainees (LGG and MGP), field application specialists, pathologists new to molecular or those who wants a refresher, molecular and cytogenetic technologists, and cytogeneticists who wants background in molecular pathology.
Space is limited so be sure to register early
REGISTRATION TYPE

EARLY
REGISTRATION

ENDS 9/10/2021
11:59 PM EDT

STANDARD
REGISTRATION

9/11/21 - 10/26/21
11:59 PM EDT

ON-SITE
REGISTRATION

10/27/21 - 11/16/21

AMP Regular Member
$300
$300
$349
AMP Technologist (Tech) Member
$190
$190
$225
AMP Associate Member
$190
$190
$225
Non-AMP member
$350
$399
$449
Registration includes:
CME, CMLE, or Certificate of Attendance
Breadfast, coffee breaks, and lunch
HOW TO REGISTER:
Click on the "REGISTER NOW!" button at the top or bottom of the page.
Login using your AMP user profile. If you don't have an AMP account, create a free one by clicking here to complete a profile.
Once you're logged in, please go to "Events".
You may either register for this course AND the AMP Annual Meeting & Expo or the course alone if you do not plan to attend the Annual Meeting.

To register for both the AMP Annual Meeting & Expo AND the GetAMPed! course, click on the AMP 2021 Annual Meeting and Expo icon
To register for the course alone click on the Get AMPed! 2021 icon.
Need to make a change or addition to your registration? Please email amp@amp.org if you need to make any changes to your registration, or if you need to add additional items onto an existing registration.
If you have a disability that will impact your participation in the meeting, please notify us during the registration process or contact us via email at amp@amp.org. Notify us as early as possible so we can ensure the availability of appropriate accommodations.
Physicians (ACCME)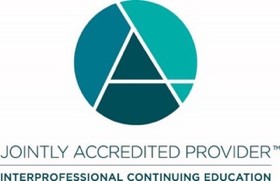 In support of improving patient care, this activity has been planned and implemented by Amedco LLC and the Association for Molecular Pathology. Amedco LLC is jointly accredited by the Accreditation Council for Continuing Medical Education (ACCME), the Accreditation Council for Pharmacy Education (ACPE), and the American Nurses Credentialing Center (ANCC), to provide continuing education for the healthcare team.
Credit Designation Statement – Amedco LLC designates this live activity for a maximum of 5.50 AMA PRA Category 1 CreditsTM. Physicians should claim only the credit commensurate with the extent of their participation in the activity.
Medical Laboratory Education (CMLE)
This activity will be submitted for consideration for continuing medical laboratory education accreditation. Please check back for more information.
Instructions for how to claim credit will be emailed to participants after the course.
Cancellations
Cancellations received by written notification to amp@amp.org. through October 1 will receive a refund (less a $75 processing fee). No refunds after October 1.
Social Media Policy
We encourage the use of social media for professional networking purposes before, during and after AMP 2021. Attendees are also invited to share insights from presentations provided that they are respectful of the presenter's wishes: if slides or posters indicate that photos are not permitted, attendees must refrain from taking pictures and sharing on social media. To ensure that everyone has a positive social media experience, please adhere to these guidelines:
Do:

Follow AMP on Twitter @AMPath like us on Facebook and/or join our LinkedIn group
Use the #AMPath21 and #AMPlifier hashtags to join the conversation and get the latest annual meeting updates
Post about what you discover at the meeting
Share your knowledge and insights
Be respectful and courteous to your colleagues
Have fun!

Don't:

Post inflammatory, disrespectful or otherwise inappropriate comments
Take/share photos of slides or posters without permission
Post copyrighted/trademarked/embargoed materials
Photography Disclaimer: Participation in AMP meetings and related activities constitutes agreement by the registrant to allow AMP to use and distribute the registrant's image or voice in photos, videos, & other electronic (re)productions of such events and activities.
Code of Conduct: Registration and attendance at or participation in AMP meetings and other activities constitutes an agreement by the registrant to follow AMP's Code of Conduct.
Privacy Policy: Registration and attendance at or participation in the 2021 Get AMPed! Course, you agree to AMP's Privacy Policy
COVID Waiver and Commitment: Registration and attendance at or participation in the 2021 GetAMPed! course, you agree to the COVID-19 Waiver and Commitment:
I understand that attendance at indoor conferences like the AMP Annual Meeting may involve a risk of exposure to COVID-19, and I knowingly assume that risk.
On behalf of myself as well as my family and heirs, I hereby release from liability, and waive all claims against, AMP, its officers, directors, and employees for any harm, injury, and damage of any nature suffered by me should I contract COVID-19.
I will comply with all applicable health and safety laws and directives, as well as any guidelines of AMP and the meeting venues (convention center, hotels, etc), including with respect to face coverings and physical distancing.
I will not attend the AMP Annual Meeting, if, within 10 days of the start of the Annual Meeting, I have exposure to anyone with COVID-19 or I experience any symptoms of COVID-19, including fever or chills, cough, shortness of breath, fatigue, body aches, headache, loss of taste or smell, sore throat, runny nose, nausea, vomiting, or diarrhea.
---
Supported by an independent medical education grant from Illumina, Inc.
Plan now to participate after the course and attend the entire Association for Molecular Pathology 2021 Annual Meeting & Expo! The scientific sessions of the AMP Annual Meeting & Expo will take place from November 17-21, 2021 immediately following the 2021 Get AMPed! Course.
**Separate registration is required to attend the AMP Annual Meeting & Expo**